Archduchess Maria Josepha of Austria was the ninth daughter of Holy Roman Empress Empress Maria Theresa and Holy Roman Emperor Francis I.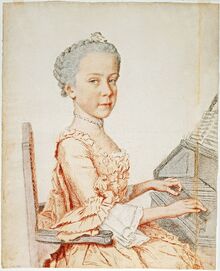 Early life at the Court of Maria Theresa - Archduchess Maria Josepha of Austria.
Josepha was born on 19th March to Maria Theresa, Holy Roman Empress and Francis I. She grew up in the pleasant surroundings of the Hofburg and Schönbrunn Palaces. In youth she was described as "delightfully pretty, pliant by nature," by her favourite brother Joseph.
Empress Maria Theresa wanted to marry her fourth surviving daughter, Archduchess Maria Amalia, to Ferdinand of Naples and Sicily for political reasons. But alas Ferdinand's father Charles III of Spain objected to the considerable age difference. Thus Maria Josepha was thrown into the path of fate. She was next eldest daughter and was the same age as Ferdinand so was naturally the obvious candidate for Ferdinand's hand in marriage. But the day she was to set off for her journey across the Alps a sudden and serious illness came about which postponed her leaving. Charles III couldn't wait no longer so he chose Josepha's younger sister Maria Carolina over her.
Maria Josepha recovered from this sudden illness. She was happy for her recovery but much saddened by her misfortune of loosing her future position as Queen Consort of Napels. This then allowed Maria Theresa to search for future candidates.