History of Vendome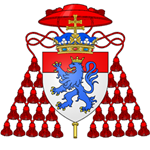 Pierre de Poissy was granted the County of Vendome in 1497, after heading major battles against France in the war to annexe France. Pierre was himself a Catholic Bishop and had been Bishop of Mâcon.
It was raised to a Marquisate in 1601 for Clément Henri, who had been a major member of the court for decades, acting as Lord Chancellor of Court.
The House is well known for producing members of the clergy, who have traditionally occupied several major positions within the church. The House also produced two Popes, Jean XXIII and Pierre II.
Territories
Vendome holds several territories, those being:
Marquisat de Vendôme [Most Senior Title]
Comté de Blois [Traditional Seat of the Heir]
Members
Henri Philippe de Vendome (Marquis de Vendome, Head)
Francois Alexandre de Vendome (Comte de Nîmes)
Josephe Amelie Vendome (Comtesse de Landau)
Valerie Cerise de Vendome (Dame)
Loic Etienne de Vendome (Seigneur)
Fontaine Honore de Vendome (Seigneur)