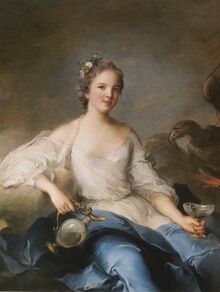 Marie Anne
(5 October 1717 – 14th September 1744) is a Grandelumierian noblewoman and the eldest of five sisters. She would be a mistress of Emperor Louis XI.
Reign of Louis XI - Dame de Valois
Marie Anne was the eldest daughter of Louis de Valois, Seigneur de Valois and his wife Armande Félice de La Porte. Her branch of the family shared ancestry with Empress Elisabeth Justine, Cardinal Vosges and Isabelle Madeleine de Valois. Diane's father was Elisabeth Justine's and Isabelle Madeleine's cousin. Cardinal Vosges was the younger brother of Elisabeth's and Isabelle's grandfather, making Vosges her great-granduncle and Cardinal Lorraine her second cousin.
Diane Adélaïde was the first of the two sisters who would become a mistress, Marie Anne, who was the most ambitious of them all,would follow, using her influence to gain modest fortunes in various estates. She was also known to dabble in politics from time to time.
She died of convulsions in 1744.
Titles and Styles.
5th October 1717 - 14th September 1744 Dame de Valois.